40th Anniversary & Renewal of Vows
Saturday - February 3, 2001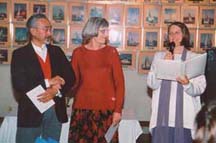 ---



Barbara and I began thinking seriously about celebrating our 40th wedding anniversary back in the late summer of 2000. The idea had rattled around in the backwaters of our minds for some time, tantalizing, yet unformed and unstated since our daughter-in-law suggested we have a renewal of vows ceremony a number of years back. Once we began thinking about it, we became more excited with the idea. In part the impetus for a ceremony now was a result of my heart attack in early October of 1999 - a very serious event, that. While my recovery was excellent and I returned to good health with few limitations, facing death was a sobering experience for both of us, reminding us of the preciousness and uncertainties of life. My parents missed celebrating their 50th because my Dad died some 18 months before their anniversary date, and we didn't want to miss marking this important time in our lives. To us, 40 seemed a significant figure - you know, 40 years in a generation, 40 days and 40 nights, 40 years in the wilderness, and all that good stuff...




| | |
| --- | --- |
| We invited Jenny Ruhl, the woman who officiated at the weddings of both our daughter and son, to officiate at our anniversary celebration. We were touched and delighted when she agreed to do so. We wanted to mark a point in time celebrating our marriage 40 years ago, acknowledge the journey through 40 years of life together with all the attendant events and interactions that have involved our family, and end with an avowal of our deep and abiding love for each other. | |
| | |
| --- | --- |
| | We wanted it to be romantic, full of memories, and definitely fun. And, we wanted to do this in the company of those most important to us - our family and dear friends... |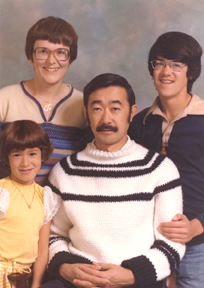 We met with Jenny for two brainstorming and planning sessions during the month of January. Our lead-time for preparations was very short, so we made the most of what time we had. We shared our thoughts on our 40 years together, touching on our inter-racial union among other things, and crystalized what we wanted in the ceremony. We got teary-eyed with nostalgia and the pleasure of our remembrances, and kept each other in stitches as we discussed the tone we wanted set for the evening - an atmosphere of fun and enjoyment, a moving and uplifting evening. While there would be serious moments during the evening, the overall tone even in those moments would be one of celebration.

We were eclectic in gathering things that eventually ended up as a part of our ceremony - Jenny was super in this regard with resources and especially ideas. In the end, we borrowed three pieces of our program from the commitment ceremony of two of our dear friends, including a piece on Community written by one of the partners.
| | |
| --- | --- |
| | Developing our ceremony was a significant part of the whole process leading up to our day of celebration... |
---
Location, Location, Location...

The Nagai Family Minister...

The DJ...

The Photographer...

The Ceremony...

The Anniversary Celebration...
---