W
e have known Michele Dorntge for a long time - she is a dear friend. She and I have collaborated in a number of photography projects for the past 5-6 years, and last fall I joined her in her wedding photography business, bringing my particular style of portrait photography to her work with weddings and other events.* When Barbara and I set the date for our anniversary celebration, Michele asked to be the photographer to chronicle the event - a gift to us. That's friendship...
T
he majority of photos of this event were taken by Michele. Others contributing to the gallery: Diana Nagai; Betty Carol Smith; Alexa Dorntge; and Glenn Musselman...
T
hat's Alexa to the left with Michele...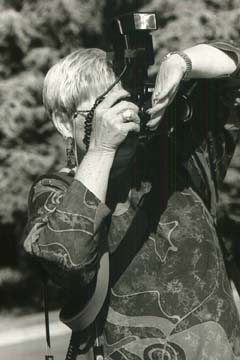 M
ichele worked with our daughter, Diana, and Chris around their
Villa Montalvo
wedding in May of 1997. Following the wedding, during the taking of the formal wedding photos, I shot companion photographs in B/W for the bride and groom. A father's gift...
H
ere's Michele working...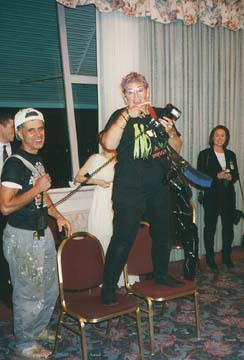 M
ichele was also one of the co-conspirators of the
Hallowedding
back in October of 1996. She covered the wedding ceremony and the reception. While I was in the dark about the true nature of the party, I initially was reluctant to bring my camera as I was aware that Tori&Paul had asked Michele to cover the "Halloween Party." Without tipping their hands at the time, son and then girl friend encouraged me to bring my camera - that it would be all right. Still somewhat in shock that the Halloween party was in reality a wedding, I caught some nice shots during the reception, including this one of Michele working...
*For information about Wedding Photography:



E-mail me at Gordon H. Nagai, or call me at 510.524.6324.
Also, see my portfolio at Wedding Photography.

Or call Michele Dorntge at 510.524.5753.